International Project
IMMANUEL KANT. WORKS IN RUSSIAN AND GERMAN LANGUAGES
Prof. Nelly Motroshilova is the Editor-in-Cheaf from the Russian site at the Editorial Project: Immanuel Kant. Works in Russian and German languages / Immanuel Kant. Werke. Zweisprachige deutsch-russische Ausgabe / Ed. by Nelly Motroshilova (Moscow) and Burkhard Tuschling (Marburg).
The Kant-Ausgabe Project since 1999 is published with financial support by Volkswagen-Stiftung within the scope of the program "Gemeinsame Wege nach Mittel- und Osteuropa".

For more information about the main aims and pre-history of the Project see the site of the Marburg University: Zweisprachige deutsch-russische Ausgabe


Researchers, participants of the project, have put to themselves the aim to make available the most important writings of the critical period of the philosophy of Immanuel Kant in a bilingual issue first to the Russian audience. Up to now five volumes have appeared. The sixth volume is forthcoming in 2014.

Gesamtplan der Ausgabe
Die Edition ist nach derzeitiger Planung auf sechs Bände (wobei der Band 2, der die Kritik der reinen Vernunft umfaßt, in zwei Halbbänden erscheinen wird) angelegt.
Band 1: Idee zu einer allgemeinen Geschichte in weltbürgerlicher Absicht - Beantwortung der Frage: Was ist Aufklärung? - Mutmaßlicher Anfang der Menschengeschichte - Was heißt: Sich im Denken orientieren? - Über den Gemeinspruch: Das mag in der Theorie richtig sein, taugt aber nicht für die Praxis - Zum ewigen Frieden - Von einem neuerdings erhobenen vornehmen Ton in der Philosophie - Verkündigung des nahen Abschlusses eines Traktats zum ewigen Frieden in der Philosophie.
Band 2 (in zwei Halbbänden): Kritik der reinen Vernunft
Band 3: Grundlegung zur Metaphysik der Sitten - Kritik der praktischen Vernunft
Band 4: Kritik der Urteilskraft
Band 5: Die Religion innerhalb der Grenzen der bloßen Vernunft - Metaphysik der Sitten
Band 6: Metaphysische Anfangsgründe der Naturwissenschaften - Prolegomena zu einer jeden Metaphysik, die als Wissenschaft wird auftreten können
Jeder Band soll neben den Schriften Kants einen wichtige, dem russischen Publikum in der Regel unbekannte historische Informationen bringenden Apparat, ein Register sowie eine kurze Einleitung zur Editionsgeschichte der vorgelegten Schriften enthalten.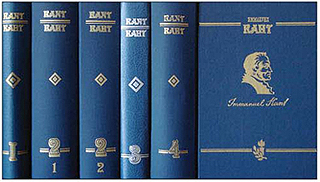 Institute of Philosophy
Russian Academy of Sciences
Copyright © 2007—2022